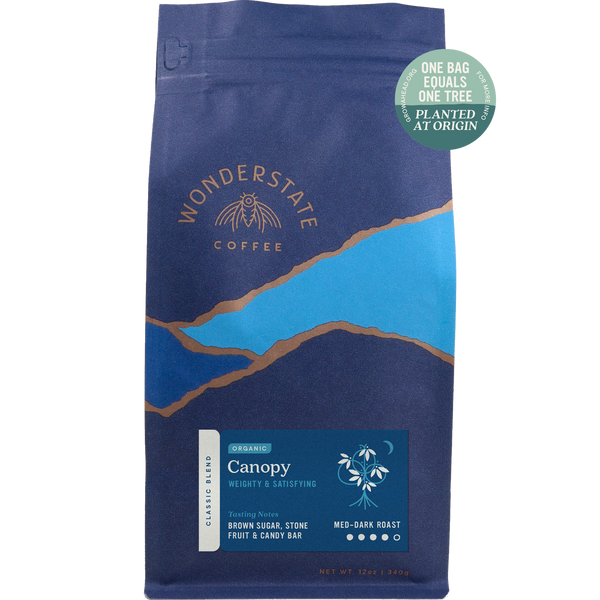 $18.00
Weighty & Satisfying
Notes of Brown Sugar, Stone Fruit & Candy Bar
Don't let the brown sugar and candy bar notes fool you, this comfortable blend finishes with a complexity that can stop time. Canopy is particularly special because for every bag purchased, we're planting a tree where this coffee was grown.
Producer: Guatemala La Unidad
Canopy
Producer: CODECH Cooperative
Region: Huehuetenango; Guatemala
About Organic Canopy
Canopy is a coffee blend rooted in purpose. 
With notes of brown sugar, stone fruit, and candy bar, Canopy is a standout blend that's available year round. Not only is Canopy delicious, it catalyzes positive environmental change at coffee origin. We brought Canopy to life to help us achieve our goal of making a difference for farmers and for the land on which our coffee grows. 

For every bag of Canopy purchased, one tree will be planted at origin farms.

Wonderstate Coffee is proud to be partnering with the non-profit Grow Ahead to support this work. Grow Ahead uses crowdfunding to support projects that they develop in tandem with smallholder farmers and indigenous communities in coffee-growing regions. Currently, the funds raised through the Canopy sales are funding an indigenous-led reforestation project in Chiapas, Mexico. More information about this project is available on Grow Ahead's website:growahead.org.