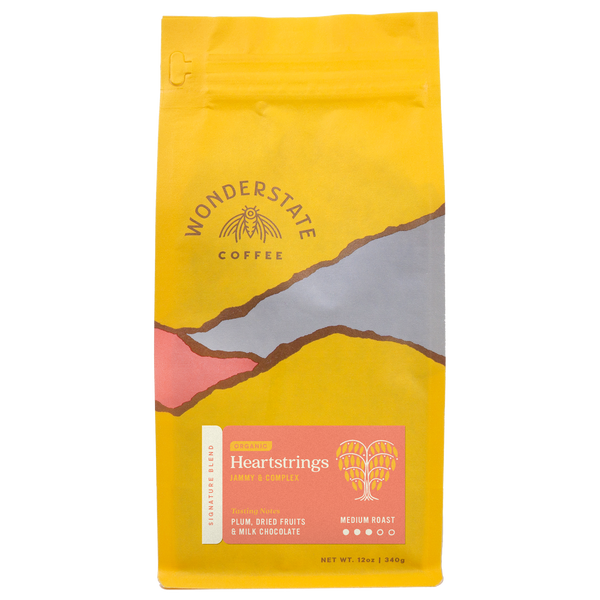 $18.00
Jammy & Complex
Notes of Plum, Dried Fruits & Milk Chocolate
Rooted in Ethiopia, this blend of washed & natural process coffees will make you fall in love with coffee all over again. 
Producers: 35% Ethiopia Riripa, 35% Guatemala CODECH, 30% Ethiopia Guji & San Fernando Natural
Heartstrings
Producer: Chelbessa Washing Station; CODECH Cooperative
Region: Gedeb, Ethiopia; Huehuetenango, Guatemala
About Organic Heartstrings
Heartstrings reminds us why we fell in love with coffee in the first place. Always featuring coffees from the homeland of all coffee, Ethiopia, Heartstrings is a rich blend of washed & naturally processed coffees. With a deep, intricate complexity and a jammy, strawberry splash, this one's for the discerning and the curious. 
When we first started playing around with this blend, we set our sights on creating something that would savor all the best aspects of a fruity natural, while still delivering the balance and reliability of something more traditional. Unlike washed coffees, where the flesh of the coffee cherry is removed before the bean is dried, naturally processed coffees are dried with the ripe red coffee cherries left intact, baking in those rich, fruity flavors. Paired with a washed coffee roasted to a sweet and cozy depth, the result is a wonderfully layered but slightly elusive flavor profile we can't get enough of.
For those whose morning cup has become a little humdrum, this one is sure to tug at your heartstrings and spark some new coffee passions. Pull it as a shot. Brew it up however you like. Let the intrigue begin.